The camp feels alive, now that the boys have arrived.
The fields are filled with boys playing soccer, baseball, golf and lacrosse.  Balls are flying across the nets as the boys receive tennis instruction and practice their skills.  Mornings and afternoons the Craft Hall is filled with boys making lanyards and creating out of clay.  In woodcraft, the boys are learning to build, and douse a fire. From the rifle range there is a constant ping as target after target is hit, or not.  Shooting a bow and arrows is a new sport for many.
While the boys taking canoeing are learning the parts of the paddle and the canoe, others are taking swimming, snorkeling and kayaking.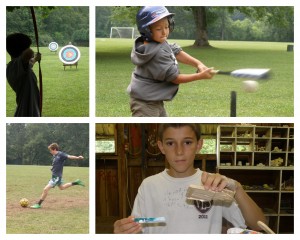 There is no shortage of energy in camp, as evidenced by the number of boys playing on soccer, basketball and baseball teams in the afternoons in addition to their morning routine.  They played their first games (matches) Monday afternoon.  It's amazing how well the teams are pulling together during this first week of playing together.
Thank heaven the food is so good, fueling the boys' activities.
With their courses set for the week, their first campfire under their belts, and their trips to the Jigger shop now routine, even the new campers are beginning to feel at home at Camp Greenbrier.
The new camp year has officially begun!