May 06, 2021
Hello All!
Here at Camp we are so excited for the summer and hope you are too!
We have taken a little extra time to publish our pre-camp forms, in hopes that we won't have to make too many changes later due to the shifting landscape that is Covid-19.  We have also adjusted the deadline for returning the Pre-Camp form, the Health History form, and the Covid-19 Waiver to June 1, 2021.
For Boys Camp and the Leadership Academy, all of the pre-camp forms can now be found under "Camp Forms" here on the website.  To get to "Camp Forms" just hover over "Families" on the menu bar, and then click on "Camp Forms."
As needed going forward, we will provide updates here – through the News section of our website.  And as always, if you have any questions at all, do not hesitate to contact us via email or telephone call.
Best to All!
The Camp Family
November 11, 2020
Hello Campers!
All of us from Camp Greenbrier hope that you and your families are doing well. We are happy to report that we had a successful three weeks of House Party (family camp) this summer, with no cases of Covid-19 as a result.
Given our experience this past summer, we feel confident that we can safely hold Boys Camp, Leadership Academy, and House Party in 2021! Our regular mailings, with Camper Applications and House Party Reservations, will go out next week. If you'd like to get a jump on things, just print the appropriate form from here (our website) and send it in.  Remember, just click on the icon at the top of the page for what you want: Boys Camp, Leadership Academy, or House Party.
Dates for Boys Camp:
First Term is June 27 – July 17, 2021
Second Term is July 18 – August 7, 2021
Full Season is June 27 – August 7, 2021
Dates for Leadership Academy:
First Term is June 27 – July 17, 2021
Second Term is July 18 – August 7, 2021
Dates for House Party are August 8 – 22, 2021
Be sure to contact us if you have any questions or concerns. As always, we look forward to hearing from you!
The Camp Family
June 20, 2020
Dear Camp Families,
As many of you know, we have been working very hard over the past three months trying to figure out how to run Boys Camp, the Leadership Academy, and House Party (our family camp) during a pandemic.  Because of our strong desire to provide your children with a wonderful summer camp experience, especially at a time when they need it so much, we have considered every possibility and waited as long as we could to make a decision.  As we mentioned previously, there are numerous Covid-19 guidelines set out by the State of West Virginia, the American Camp Association, and the Center for Disease Control, which guide summer camps.  Just last week, the State of West Virginia came out with new rules, updating their May guidelines.  We are absolutely devastated to tell you that these rules make it impossible for us to run a traditional, overnight summer camp.
We are truly saddened by this situation.  We understand that your children need to get back to normal – to play with friends, to go to school, and to go to summer camp, among other regular activities.  We also realize that not having summer camp causes great problems for many parents and guardians.  Many of you need to be able to go to work and know that your kids are cared for, or be able to work from home without your kids demanding constant attention.
We too are hurting mightily due to this decision to not run our traditional summer program.  Greenbrier has held regular Boys Camp every summer since 1898 so it hurts our pride that we can't go forth with regular camp.  More personally, our 14 year old son William will miss out on his 9th year as a camper.  Being at Greenbrier is the only summer experience he has ever known; he started out as a camper when he was only six years old by tricking his mom (maybe with a little help from Dad…), into thinking he would only sleep in the Tent Area for the first night.  He never did return to our family's cabin.
So that everyone can understand what we are facing and how the rules make it impossible to run a traditional, overnight summer camp, here are just a few of the West Virginia requirements:
Implement strict social distancing guidelines of at least six feet between campers, counselors, and other employees
Encourage all campers, counselors, and other employees to wear face masks
Clean and sanitize every chair, table, art material, piece of sporting equipment, or anything else commonly used by campers or staff, between each use or touch
Reduce facility occupancy to ensure proper social distancing
As you can see, running the Boys Camp or Leadership Program under these restrictions would not be feasible.  There is just no way to keep active boys six feet apart and wearing masks, and clean everything they touch before someone else touches what they touched.  And even if we could keep the boys apart and wearing masks, it sure would not seem healthy in a summer camp environment.
Over the past several months, given the uncertainty surrounding Covid-19, we have been considering alternatives to traditional overnight camp, in case our regular programming could not happen.  In taking a closer look at our programs, it turns out that our family camp, called House Party, is much more in line with a campground than a traditional overnight summer camp.  We were very excited to realize that running our family camp in accordance with the West Virginia Covid-19 guidelines for campgrounds was quite possible; in fact, with a few tweaks, we could absolutely do it!  Therefore, in true Camp Greenbrier spirit, we plan to run three weeks of our family camp, from Sunday, July 26, through Sunday, August 16, 2020.
We encourage all of you to join us for a night or two, or even a week, if you can!  Your boys will get some time outside and everyone in the family can float down the Greenbrier River, check out the beautiful stars, play a little tennis, watch the trains go by, take the required Rest Hour after lunch, and so much more.  Plus, all meals are taken care of and the food is delicious!
A number of steps will be taken to make sure everyone who comes to House Party is safe.  Families will be asked to maintain physical distancing of six feet from non-family members, and to wear face masks when physical distancing is not possible.  Seating in the Mess Hall will be arranged such that each family will be at least six feet from non-family members.  In some situations, those in common buildings will be asked to wear face masks and maintain physical distancing, depending on the numbers present.  We will also take numerous extra precautions in cleaning the bathrooms, the shower rooms, and any common buildings.  We will ask everyone to work together to protect themselves and others from the spread of Covid-19.  Although this will take some effort, we truly believe that House Party can be a fantastic experience for everyone.
If you would like to sign up for House Party, click on the link just below.  It will take you to a Google form where you can fill out all of the pertinent information.  Remember, you can come for any number of nights between July 26 and August 16, 2020.  Much of the House Party website information will be updated in the next week or so.
House Party (family camp) Link – Click Here => https://docs.google.com/forms/d/16K0qULjdIHP4KEVGjESRcxKouta4k-77eW8VCpxGLgA/edit
Thank you so much for your patience through this challenging and unprecedented situation.  All of us in the camp family hope that you and yours are doing well and staying healthy.  We look foward to seeing all of you soon – either at House Party this summer, or in 2021!
Please feel free to contact us if you have any questions or concerns about anything.
Very best to everyone!
May 27, 2020
As you know from our prior correspondence, we set the end of May as the time we would decide whether our First Term, beginning June 28, 2020, could go forward.  
In making this decision, we have looked at this issue from a seemingly exhaustive number of angles.  We have considered the recommendations, guidelines, and rules of the Centers for Disease Control (CDC), the American Camp Association (the preeminent governing body for summer camps in the U.S.), and the West Virginia Department of Health & Human Resources.  We have been in touch with the Office of the Governor of West Virginia and the local Health Department.  We have been in weekly Zoom meetings with several camp directors from across the Mid-Atlantic region and in very close contact with the six other main residential summer camps in West Virginia.  We have also heard from many of you who have been so supportive at such a tough time – thank you for that!
Most importantly, we have repeatedly considered the question of whether we could ensure the safety and well-being of all of our campers and staff while they are at camp, and the safety and well-being of their families when they go home at the end of their stay.  As one of my fellow camp directors recently pointed out, we are all about safety, safety, and safety.  It's practically instinctual – I sometimes find myself, in the middle of September, telling random kids in WalMart not to run because it's dangerous.    
Specifically, we have carefully weighed how face masks, physical distancing, and small groups would work in our environment.  The State of West Virginia has issued some rules with respect to these which are largely incompatible with how any residential summer camp operates.  We, and the other six large residential camps in West Virginia, are hoping for some positive changes in these rules in the near future.  Other questions include what to do in case someone in camp is diagnosed with Covid-19?  What happens if someone shows up on opening day with an elevated temperature?  The questions go on and on.  
In light of the restrictions currently in place and the multiple unknowns, and after careful consideration, we have decided that we are unable to begin camp on June 28, 2020.  We know that this will be very upsetting to the campers and staff who were planning to head our way at the end of June.  We also understand that this will be difficult for many of the parents and guardians of these campers.  We truly wish we could make a different decision – it is incredibly upsetting for us as well, as you can imagine.   
That being said, we continue to have hope for camp later in the summer!  Our plan is to have two 2-week sessions beginning July 19, 2020, followed by House Party, our family camp.  The sessions are as follows:


 



First Term:  Sunday, July 19, 2020 – Saturday, August 1, 2020 ($2,300.00)
Second Term:  Sunday, August 2, 2020 – Saturday, August 15, 2020 ($2,300.00)
Full Season:  Sunday, July 19, 2020 – Saturday, August 15, 2020 ($3,900.00)
House Party:  Dates in August to be determined (begins August 16, 2020).
ADDITIONAL INFORMATION:
How to Sign Up for Boys Camp & Leadership Academy:  If your camper is already signed up, prior to the date of this message, simply respond to the email you received and complete the included Google form.  If you did not receive the email, send us an email stating as much and we will resend it to you.  You will have the option to move to a new session, roll your camp fee over to 2021, or withdraw and receive a refund.
If you are a new camper, sign up by printing the Camper Application from Camp Forms (under "Families" on the menu bar), fill it out, and return it as an email attachment, or through the regular mail to our Exmore, Virginia address.  At this time, do not include payment with the Application – we will collect payment closer to the opening of your camper's term.
Campers can sign up for one or both sessions.  Leadership Academy participants can sign up for either First Term or Second Term, but not both.
How to Sign Up for House Party:  Please contact our office at info@campgreenbrier.com or by calling (304) 445-7168 if you are interested in signing up for our family camp.
Final Decision Date:  On or before June 20, 2020, we will decide whether we can begin camp on July 19, 2020 (we originally said that this decision date would be June 15).  
If we decide that there can be no camp beginning on July 19, we will decide by July 15, 2020, whether to have camp in August (August session dates would be determined at a later time).
Thank you for your patience through this very challenging time.  And best regards to everyone from the entire Camp Greenbrier family.  We very much hope to see you this summer!
May 19, 2020
Hello Everyone,
We are writing to update you on the camp schedule for this summer.  Before we go into the details, we first want to say that we hope everyone is doing well and staying healthy during this unprecedented pandemic.  We also want to thank all of you for your patience as you wait for decisions about our summer plans.
Despite the uncertainty, we are excited and hopeful for another great Greenbrier summer!  At the same time, we are realistic about the problems and health concerns created by Covid-19.  Rest assured, we will not make any decisions without first considering the health and safety of all of our campers and staff, and their extended families at home.  With that in mind, the plans for BOYS CAMP, the LEADERSHIP ACADEMY, and HOUSE PARTY, are as follows:
Plan A – Regular Schedule:  On or before May 25, 2020, we will decide whether we can have the regularly scheduled First Session (June 28 – July 18, 2020, followed by Second Term and House Party).  If yes, great!  If no, then on to Plan B!
Plan B – 2-Week Sessions Beginning in July:  On or before June 15, 2020, we will decide whether camp can hold two, 2-week sessions, starting on July 19.  First Session would be July 19 – August 1, 2020.  Second Session would be August 2 – August 15, 2020.  And House Party would be August 16 – 30, 2020.  If this can't happen, on to Plan C!
Plan C – Camp in August: On or before July 15, 2020, we will decide whether camp can be held at any time in August. If the answer to this question is yes, we will also determine the dates for Boys Camp, the Leadership Academy, and House Party by July 15, 2020.
If Plan A can't happen, Boys Camp families will need to decide whether to sign their camper up for one or both of the Plan B sessions, or withdraw completely.  Leadership Academy families will need to decide whether to sign their camper up for either Plan B, Session 1, or Plan B, Session 2, or withdraw completely.  And House Party guests will need to let us know their new dates, or withdraw completely.
Fees if You Change Sessions.  If you move your camper to a Plan B session, or sessions, the camp fee will be based on the fee you established when you originally signed your camper up, on a prorated weekly basis.  For example, if you signed up in November, 2019, and the camp fee was $3,000.00 for the three-week session, it will be $1,000.00 per week for any Plan B time period ($2,000.00 for two weeks, or $4,000.00 for four weeks).  In this scenario, Leadership Academy participants would also pay $2,000.00 for their 2-week, Plan B session.  If you end up paying too much, because you have moved your camper to a shorter session, refunds will be sent out as soon as possible.  House Party guest fees will not change; they will still be charged at the previously set daily rate.
Fees for Boys Camp and Leadership Academy Withdrawals or if We Are Unable to Have Camp:  If at any time during this process a family decides that they must completely withdraw their camper(s), or if we are unable to have camp (Boo!), there are two options.  First, families can request a full refund.  This will be paid as soon as possible after the request is made.  Second, families can choose to move their camper to the 2021 summer and lock in the fee they would have paid in 2020 for the 2021 summer.  In order to take advantage of the roll over to 2021 savings, the full 2020 camp fee must be paid no later than July 20, 2020 – the reason for this follows.
If our summer is shortened (a very real possibility), or cancelled altogether (let's hope not but also a possibility), Camp Greenbrier will face a very difficult financial situation.  This situation will be particularly acute if we have to refund everyone's camp fees and House Party deposits at one time this summer.  As you can imagine, much of our spending in preparation for camp is done long before the summer.  This is why we are offering families the choice to roll their camp fees over to the 2021 summer and paying the 2020 fees in full by July 20, 2020.  This will lock in the 2020 rates for families while also helping us immensely with the financial pressures we are sure to face.  And as always, you can get a full refund for all fees if you withdraw at any time prior to May 1, 2021.
When to Contact Us:  If possible, please wait until after May 25, 2020, to make decisions about changes to Plan B sessions, withdrawals, rolling camp fees over to 2021, or changing House Party dates, if these things are necessary.  Of course, if it can't wait, it is fine for you to contact us prior to that date about anything.
Thank you again for your patience during this crisis.  We will be in touch with you soon!
Best,
Will & the Camp Family
March 31, 2020
Hello All,
We are touching base about camp for this summer and how it may be affected by the Coronavirus.
First and foremost, however, we want everyone in the camp community to know that we are thinking about you and hoping that you and your families are safe and healthy. It is certainly a challenging time – being separated from friends and family, learning home-schooling on the fly, working from home, or perhaps not working at all, among numerous other challenges. For anyone who has family members or friends who are sick from Covid-19, we are especially thinking of you and hoping for speedy recoveries.
As you can imagine, we, the camp family, have been thinking lots about the plans for this summer. At this point, we feel it would be premature to make any final decisions about the camp schedule. So, for now, we plan to open on the regular schedule, with counselors arriving for orientation on June 21, 2020, and campers arriving a week later, on Sunday, June 28, 2020, for First Term.
We realize that changes to the summer may be necessary depending on a host of factors including the path and timetable of the Coronavirus. In light of this, we will revisit our plans toward the end of April and communicate with everyone our thinking at that time.
Regarding camp fees, know that we will fully refund all payments, including deposits, if campers are unable to attend, or if camp can't go forward. Also, we will be as flexible as possible with families regarding any new issues that come up due to the extreme situation facing all of us. We will try to help in any way we can.
Camp Greenbrier hasn't missed a summer since its beginning in 1898 and we are hopeful that this summer will simply be another spectacular adventure with campers paddling on the Greenbrier, shooting archery, and making great friends!
Do not hesitate to contact us if you have questions or concerns about anything. And again, we hope everyone in your family is well.
Best,
Will & the Camp Family
September 26, 2019
The boys camp was a wonderful  success with many goals met and lots of new friends made.  The Leadership Academy participants learned a great deal about leadership and took part in numerous exciting activities including AirSoft and White Water Rafting on the New River.  Last but not  least, House  Party – our family camp, enjoyed another happy gathering of old friends and new.  If you were not able to join us during the 2019 summer, we hope to see you next year!  All the best from the camp family.
July 01, 2016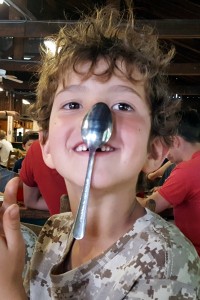 Yesterday was the opening day of 2nd term.  The new campers arrived and are all totally involved with the activities and the daily routine.
Although this may not exactly be routine, it is joyful to first learn how to hang a spoon from your nose.
June 22, 2016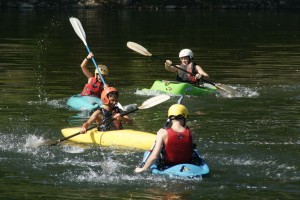 On April 20, 2016, The Philadelphia Enquirer voted for the Coolest Summer Camp in every state.  We are proud that for the State of West Virginia, they chose Camp Greenbrier.
The counselors carry the slide sections down the bank and into the Greenbrier
River.  The sections are then attached to each other.
That afternoon, they put the slide together and mounted it on the supports.