August 02, 2017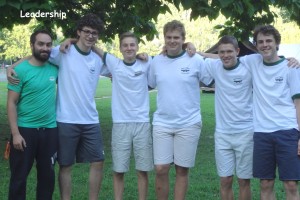 July 15, 2017
July 01, 2016
Yesterday was the opening day of 2nd term.  The new campers arrived and are all totally involved with the activities and the daily routine.
Although this may not exactly be routine, it is joyful to first learn how to hang a spoon from your nose.
June 22, 2016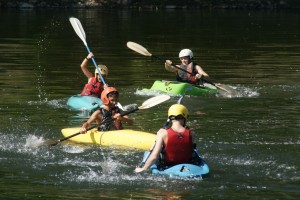 On April 20, 2016, The Philadelphia Enquirer voted for the Coolest Summer Camp in every state.  We are proud that for the State of West Virginia, they chose Camp Greenbrier.
The counselors carry the slide sections down the bank and into the Greenbrier
River.  The sections are then attached to each other.
That afternoon, they put the slide together and mounted it on the supports.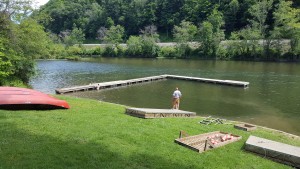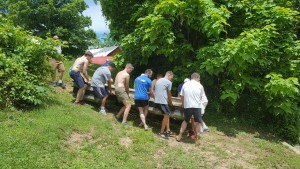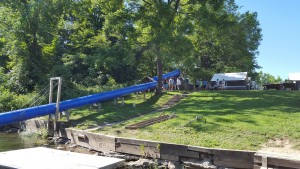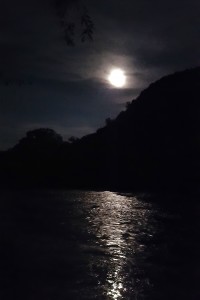 On the first day of summer, a beautiful full moon rose over the mountain to shine on the waters of Richmond Dock.
May 25, 2016
We are excited that next year's dates have been set!  Be sure to mark your calendars.
First Term, June 25 – July 15, 2017
Second Term, July 16 – August 5, 2017
Full Season, June 25 – August 5, 2017
House Party, August 6 – August 23, 2017
August 04, 2015
Saturday night was Play Day.  More than 100 girls arrived before dinner to join our Senior Camp boys for and evening of food, fun, and nervousness.  After dining, everyone gathered in the Play Hall for a great dance with our own DJ's.  As anxious as the campers are in the beginning, the end of the dance is always bittersweet.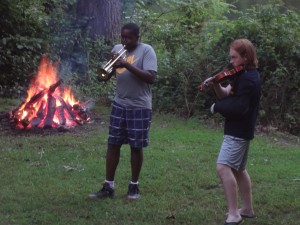 Sunday evening is the time for campfire.  Boys can tell jokes, perform in a skit, sing a song, or display their talents.  The show always ends with the telling of a Woofus story.
July 28, 2015
Keeney's Knob is the highest point in Summers County, West Virginia.  The city nearest to Keeney's Knob is Alderson, WV.  For a challenging experience, the Seniors hike to the summit, sleep under the stars, and return to Camp the next morning.